The
phone hacking
scandal that the Guardian has been campaigning on for around 2 years (see
Nick Davies investigative efforts from this point on
) finally reached some kind of conclusion today with the
announcement from News International
that the paper is to close after its final edition this Sunday. In addition to this former editor, Andy Coulson, is expected to be
arrested tomorrow
in relation to his knowledge of the paper's phone-hacking.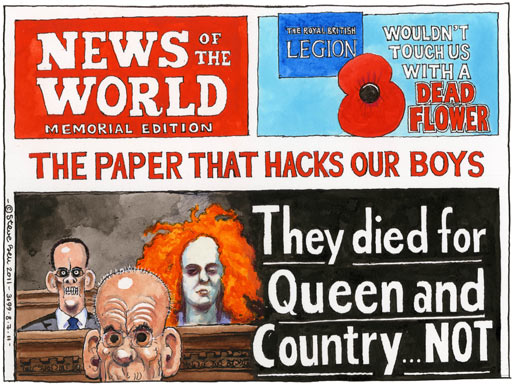 The paper has a long 168-year history, but it seems this is the end of the line, as Rupert Murdoch seems willing to
sacrifice the best selling paper in the UK
in a desperate bid to ensure that News Corp can make good on the purchase of the controlling stake in BSkyB (worth around $70 billion). For many people, the position of the
News of the World
management had become untenable as more details continued to emerge regarding the hacking of phones belonging to child-murder victims (
Milly Dowler
), the
families of the deceased 7/7
bombing victims, senior police officers as well as several high profile public figures. The stench of corruption might be too much for even this paper to come back from.
The cynic in me is still not convinced that the closure of the paper is being done for the right (moral) reasons. It reads more like an attempt to draw a line under the affair in order to satisfy Hunt and the regulator that Murdoch and co are fit and proper people, capable of being responsible enough to own one of the crown jewels of broadcasting in Britain. By closing down a profitable business, Murdoch is attempting to take control of the situation via a preemptive strike - drawing a line in the sand and praying that the accusations of corruption don't spread to his other UK-based publications (
The Sun, The Times and The Sunday Times
). Murdoch's US publications seem rather restrained with regards to the detail they are going into on this matter (see the
New York Post
here
and the
Washington Post
here
)
This last ditch attempt to ensure the BSkyB deal can go ahead is typical of Murdoch - he has never been afraid of taking major risks in order to get what he wants. The investment in Sky back in its early days was almost a risk too far, potentially jeopardising his entire empire. However, that was a gamble that paid off in the long run. Will this one work in his favour? Can the chief executive of N
ews International,
Rebekah Brooks', position remain tenable given that she has been found culpable of '
editorial blindness and managerial ineptitude
'?
Jeremy Hunt needs to take a good long look at the ethics that underpin the News International business model before arriving at his decision. This goes further than a concern about media plurality - the issue is now more about whether or not News Corp are fit to dominate so much of the British media landscape when they've been found wanting when it comes to telling the truth.